Our website publishes news, press releases, opinion and advertorials on various financial organizations, products and services which are commissioned from various Companies, Organizations, PR agencies, Bloggers etc. These commissioned articles are commercial in nature. This is not to be considered as financial advice and should be considered only for information purposes. It does not reflect the views or opinion of our website and is not to be considered an endorsement or a recommendation. We cannot guarantee the accuracy or applicability of any information provided with respect to your individual or personal circumstances. Please seek Professional advice from a qualified professional before making any financial decisions. We link to various third-party websites, affiliate sales networks, and to our advertising partners websites. When you view or click on certain links available on our articles, our partners may compensate us for displaying the content to you or make a purchase or fill a form. This will not incur any additional charges to you. To make things simpler for you to identity or distinguish advertised or sponsored articles or links, you may consider all articles or links hosted on our site as a commercial article placement. We will not be responsible for any loss you may suffer as a result of any omission or inaccuracy on the website.
Biostimulants Market 2021 Outlook, Current and Future Industry Landscape Analysis 2029
Theglobal biostimulants market is set to grow at a stellar CAGR of 11% during the forecast period (2019-2029), witnessing 3X growth in revenues. As projected by a new report of Future Market Insights (FMI), the growth of market is primarily fueled by the growing preference for bio-based ingredients in agrochemicals and crop growth additives, and a measurable rise in agricultural and horticultural production around the globe.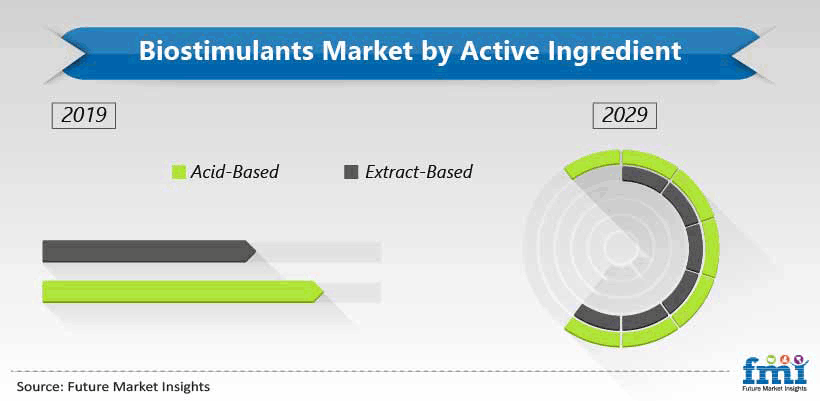 "The prevalence of organic farming is creating demand for raw materials, thereby propelling the biostimulants market. Raw crops account for the majority of consumption of biostimulants," suggests the report.
For more insights into the Market, request a sample of this report@https://www.futuremarketinsights.com/reports/sample/rep-gb-354
Biostimulants Market: Key Findings
Acid-based active ingredients will remain the most sought-out ingredient type, owing to their efficiency in enhancing crop quality.
Horticulture-based crop produce will significantly boost consumption of biostimulants, owing to their effectiveness in microbial reactions in diverse fruits and vegetables.
Europe prevails as the leading regional market for biostimulants, backed by high adoption and favorable initiatives by administrations, thereby accounting for half of the global sales.
Asia Pacific will outpace other regions in terms of growth, and will account for significant chunk, owing to increasing adoption in the emerging economies of East Asia such as India and China.
Biostimulants Market: Key Driving Factors
Rising awareness regarding the side effects of conventional, synthetic crop fertilizers is pushing manufacturers in the biostimulants market.
The shrinking of fertilized lands, which is the fundamental challenge for the agricultural industry, is working in favor of the biostimulants market as the need to improve yield per unit area of cultivated land is higher than ever.
Biostimulants Market: Key Restraints
The sluggish growth of agriculture in developed economies is threatening the rapid growth of the market.
The presence of biofertilizers as an alternative will slightly affect the sales.
We offer tailor-made solutions to fit your requirements, request customization@ https://www.futuremarketinsights.com/askus/rep-gb-354
Report Synopsis
This Future Market Insights report examines the 'Global Biostimulants Market' for the period 2015 – 2025. The primary objective of the report is to offer updates on advancements in the biostimulants market by thorough examination of marketing efforts and business strategies undertaken by manufacturing companies, which is significantly transforming the biostimulants market. This study analyses, estimates and forecasts the global biostimulants market from the demand as well as supply perspective in terms of volume (Thousand Tonnes) and revenue (US$ Mn) during the forecast period (2015–2025). The report also highlights the impact of drivers and restraints in various regions during the forecast period.
Report Description
The primary objective of the report is to offer updates on the advancements on crop enhancement products such as biostimulants. This FMI report starts with an overview of the global biostimulants market and segments on the basis of application type, crop type, active ingredient type and geography.
Contact Sales for Further Assistance in Purchasing this Report@ https://www.futuremarketinsights.com/checkout/354
The post Biostimulants Market 2021 Outlook, Current and Future Industry Landscape Analysis 2029 first appeared on Market Research Blog.