Our website publishes news, press releases, opinion and advertorials on various financial organizations, products and services which are commissioned from various Companies, Organizations, PR agencies, Bloggers etc. These commissioned articles are commercial in nature. This is not to be considered as financial advice and should be considered only for information purposes. It does not reflect the views or opinion of our website and is not to be considered an endorsement or a recommendation. We cannot guarantee the accuracy or applicability of any information provided with respect to your individual or personal circumstances. Please seek Professional advice from a qualified professional before making any financial decisions. We link to various third-party websites, affiliate sales networks, and to our advertising partners websites. When you view or click on certain links available on our articles, our partners may compensate us for displaying the content to you or make a purchase or fill a form. This will not incur any additional charges to you. To make things simpler for you to identity or distinguish advertised or sponsored articles or links, you may consider all articles or links hosted on our site as a commercial article placement. We will not be responsible for any loss you may suffer as a result of any omission or inaccuracy on the website.
Coffee Filter Paper Market Report Explored in Latest Research 2020-2030
Coffee filter papers are used on a daily basis for coffee preparation and filtration. These papers are used to trap the coffee powder/ground and filter outs the oils and granular sediment, allowing the liquid coffee to flow through a drip method. In a study Future Market Insights (FMI) has projected the market for coffee filter paper to surpass US$ 549 Mn by 2021.
Coffee filter papers have brought about a significant change in the art of coffee making and are expected to gain significant traction in the coming years. A variety of coffee filter papers such as cone, basket, V-cone, disc, and other made from either bleached or unbleached paper are available in the market.
Currently, basket filters are highly sought-after, accounting for over 30% of sales. The rising demand from both commercial and institutional use segments will continue supporting growth in the market.
Key Takeaways from Coffee Filter Paper Market
Driven by rising coffee drinking population, the U.S. is expected to account for over 80% of sales North America registers in 2021
Post sluggish returns in 2020, the U.K. market is set to register a little below 1% y-o-y growth in 2021
Germany and France to remain key sales pockets within Europe
South Korea and Japan are forecast to offer attractive sales opportunities within East Asia
"Some of the leading enterprises are focusing on gaining competitive advantage by increasing their production capacities and market presence in the highly lucrative Asian countries. Steadily growing consumer inclination towards coffee drink in Asian countries is creating ample opportunities for new entrants and established manufacturers alike" says FMI analyst.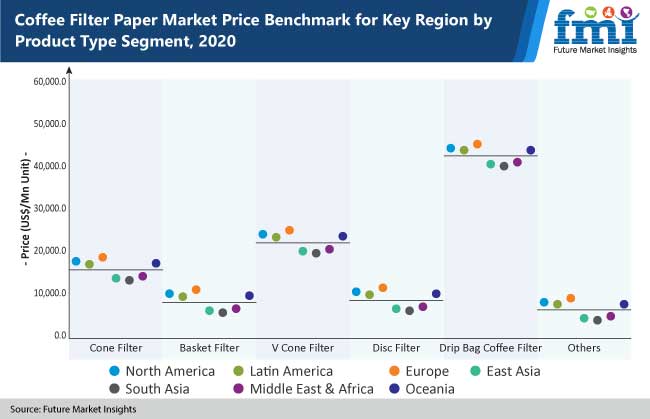 Increasing Demand for Coffee Millennial
Increasing coffee-drinking population as millennial cope with hectic schedule has emerged as a chief growth driver. They are especially fond of beverages that can offer quick relief from fatigue, which has been a key factor increasing coffee consumption. Especially, European and American countries such as Germany, the U.K., France, U.S. and Canada represent a dominant geographic segment in the coffee filter paper market. Sale of coffee filter paper is mainly driven by strong millennial sentiments, aided by well-directed fiscal perspectives. Drinking coffee at offices, schools, and food outlets is becoming the symbol of fashion and opportunity to socialize. This has been creating attractive opportunities for growth.
Coffee Filter Paper Market Competition Landscape
Ahlstrom-Munksjö Oyj, Melitta, and Glatfelter Corporation are the top players operating in the coffee filter paper market. Furthermore, BV Filtropa, Rockline Industries, TERRANOVA PAPERS SA, Riensch & Held GmbH & Co.KG, are also the noticeable players in the coffee filter paper market. The Tier 3 players in the market hold 60-65% in the global coffee filter paper market. In conclusion, key players contribute almost 35-40% of the global market.
Coffee Filter Paper Market Report
Future Market Insights, in its new report, offers an unbiased analysis of the global coffee filter paper market, analyzing historical demand from 2015-2019 and forecast statistics for 2020-2030. The study reveals growth projections on the coffee filter paper market on the basis of product type (cone filter, basket filter, V cone filter, disc filter, drip bag coffee filter and others), material type (bleached paper and unbleached paper), thickness (up to 20 GSM, 20 to 40 GSM and above 40 GSM) and end use (commercial use, household use and institutional use) across seven regions.
For More Details, Ask Analyst @ https://www.futuremarketinsights.com/ask-question/rep-gb-8082
Coffee Filter Paper Market by Category
Product Type
Cone Filter
Basket Filter
V Cone Filter
Disc Filter
Drip Bag Coffee Filter
Others
Material Type
Bleached Paper
Unbleached Paper
Thickness
Up to 20 GSM
20 to 40 GSM
Above 40 GSM
End Use
Commercial Use
Institutional Use
Household Use
Region
North America
Latin America
Europe
South Asia
East Asia
Oceania
Middle East and Africa (MEA)
The post Coffee Filter Paper Market Report Explored in Latest Research 2020-2030 appeared first on Market Research Blog.