Our website publishes news, press releases, opinion and advertorials on various financial organizations, products and services which are commissioned from various Companies, Organizations, PR agencies, Bloggers etc. These commissioned articles are commercial in nature. This is not to be considered as financial advice and should be considered only for information purposes. It does not reflect the views or opinion of our website and is not to be considered an endorsement or a recommendation. We cannot guarantee the accuracy or applicability of any information provided with respect to your individual or personal circumstances. Please seek Professional advice from a qualified professional before making any financial decisions. We link to various third-party websites, affiliate sales networks, and to our advertising partners websites. When you view or click on certain links available on our articles, our partners may compensate us for displaying the content to you or make a purchase or fill a form. This will not incur any additional charges to you. To make things simpler for you to identity or distinguish advertised or sponsored articles or links, you may consider all articles or links hosted on our site as a commercial article placement. We will not be responsible for any loss you may suffer as a result of any omission or inaccuracy on the website.
Miss Claflin University Faith McKie Crowned as Food Lion's Miss CIAA 2020
CHARLOTTE, N.C., Feb. 29, 2020 — Food Lion awarded Miss Claflin University, Faith McKie, with its coveted 2020 Miss CIAA crown today in front of a large crowd at the CIAA Fan Fest in Charlotte, N.C. For winning the contest, McKie will receive a $2,500 scholarship from Food Lion. This marks the second consecutive year that Miss Claflin University has been named Miss CIAA.
McKie, a native of Columbia, S.C., is a senior sport management major at Claflin.
"I am proud that Claflin University has won this title two years in a row," said McKie. "I will use my new status as Miss CIAA to learn more about the Food Lion Feeds Hunger platform and strategize on how to use this to help feed people in the Orangeburg, S.C., community."
McKie holds a 3.9 GPA and is a member of the Alice Carson Tisdale Honors College, Alpha Kappa Mu Honor Society and Chi Alpha Sigma National College Athlete Honor Society. She is a standout member of the Claflin University Women's Track and Field Program and participates in numerous campus committees and organizations including the Student-Athlete Advisory Committee, A. Bevy Collegiate Group and the Honors Council.
The Food Lion Miss CIAA Scholarship Competition winners are given scholarships based on their GPA, a community profile video on how they will fight food insecurity in their community, their school involvement, an in-person interview, essay and online popular vote. In addition to McKie, Food Lion also awarded its first-runner up distinction to Miss Winston-Salem State University, Taylor Walker.
McKie also received the highest online popular vote out of all 12 contestants, which means that Food Lion Feeds will donate $2,000 to the Harvest Hope Food Bank in her name to alleviate hunger in her school's local community.
Food Lion has been a proud partner of the CIAA for 26 years, and has made caring for neighbors in communities around CIAA schools a key focus of the partnership.
About Food Lion Food Lion, based in Salisbury, N.C., since 1957, has more than 1,000 stores in 10 Southeastern and Mid-Atlantic states and employs more than 63,000 associates. By leveraging its longstanding heritage of low prices and convenient locations, Food Lion is working to own the easiest full shop grocery experience in the Southeast, anchored by a strong commitment to affordability, freshness and the communities it serves. Through Food Lion Feeds, the company has donated more than 500 million meals to individuals and families since 2014, and has committed to donate 1 billion more meals by 2025. Food Lion is a company of Ahold Delhaize USA, the U.S. division of Zaandam-based Ahold Delhaize. For more information, visit www.foodlion.com.
Photos accompanying this announcement are available at
https://www.globenewswire.com/NewsRoom/AttachmentNg/c8f0ee20-4f61-4fb6-9de8-e8603df56017
https://www.globenewswire.com/NewsRoom/AttachmentNg/4d0edbda-5e43-4c3e-a5ef-54d4f05474c7

Miss CIAA 2020 Faith McKie, along with Claflin University President Dr. Dwaun J. Warmack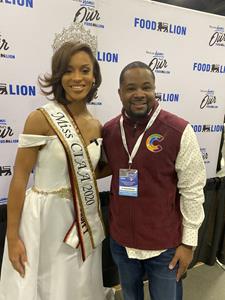 Miss CIAA 2020 Faith McKie, along with Claflin University President Dr. Dwaun J. Warmack
Miss CIAA 2020 Faith McKie being crowned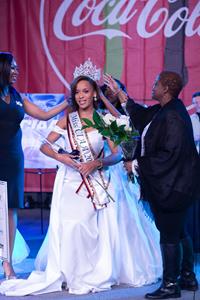 Miss Claflin University Faith McKie was named Food Lion's Miss CIAA 2020 at CIAA Fan Fest in Charlotte, N.C. on Feb. 29, 2020. She will receive a $2,500 scholarship from Food Lion for winning the crown.
Newsletters with Secrets & Analysis. Subscribe Now