Faircourt Asset Management Inc. Announces October Distributions
TORONTO, Oct. 23, 2020 — Faircourt Asset Management Inc., as Manager of the Faircourt Funds (NEO:FGX), (NEO:FCS.UN), is pleased to announce the monthly distributions payable on the Shares and Trust Units of the below listed Funds.
| | | | | | |
| --- | --- | --- | --- | --- | --- |
| Faircourt Funds | Trading Symbol | Distribution Amount (per share/unit) | Ex-Dividend Date | Record Date | Payable Date |
| Faircourt Gold Income Corp. | FGX | $0.024 | October 29, 2020 | October 30, 2020 | November 13, 2020 |
| Faircourt Split Trust | FCS.UN | $0.06 | October 29, 2020 | October 30, 2020 | November 5, 2020 |
Faircourt Asset Management Inc. is the Investment Advisor for Faircourt Gold Income Corp. and Faircourt Split Trust.
This press release is not for distribution in the United States or over United States wire services.
For further information on the Faircourt Funds, please visit www.faircourtassetmgt.com or please contact 1-800-831-0304.
You will usually pay brokerage fees to your dealer if you purchase or sell Units of the Trust on the NEO Exchange or other alternative Canadian trading system (an "exchange"). If the Units are purchased or sold on an exchange, investors may pay more than the current net asset value when buying Units of the Trust and may receive less than the current net asset value when selling them.
There are ongoing fees and expenses associated with owning units of an investment fund. An investment fund must prepare disclosure documents that contain key information about the fund. You can find more detailed information about the fund in the public filings available at www.sedar.com. Investment funds are not guaranteed, their values change frequently and past performance may not be repeated.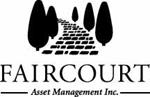 Celltrion Completes Acquisition of Primary Care (PC) Product Assets for Asia Pacific Markets from Takeda Pharmaceutical Company Limited
Celltrion (KRX:068270) has completed the acquisition of select primary care assets from Takeda Pharmaceutical Company Limited (Takeda) in Asia Pacific, igniting efforts to strengthen its R&D capability in the global small molecule pharmaceuticals business.
In June, the firms announced an agreement under which Celltrion would acquire 18 "Primary Care" product assets in the Asia Pacific area for a total of USD 278 million inclusive of milestone payments from Takeda. Celltrion proceeded with the acquisition process through its newly established subsidiary in Singapore, "Celltrion Asia Pacific Pte, Ltd."1 ("Celltrion APAC").
Upon completion of the acquisition, Celltrion APAC will assume the ownership of the rights to patents, trademarks, and sales of 18 products sold in 9 markets including South Korea, Thailand, Taiwan, Hong Kong, Macau, the Philippines, Singapore, Malaysia, and Australia.
The 18 products include prescription medicines such as Nesina (diabetes), Actos (diabetes), and Edarbi (hypertension) which were developed for global market, as well as OTC (Over-the-counter) products well known to consumers such as Whituben (cold remedy). Nesina and Edarbi in particular are expected to contribute to a stable revenue growth as the product patents will be protected until 2026 and 2027, respectively.
Celltrion Pharm, a Celltrion subsidiary, will be a primary domestic distributor, while Celltrion Healthcare will distribute internationally, leveraging its sales networks in Southeast Asia and Australia. Celltrion has entered into a manufacturing and supply agreement with Takeda who will continue to manufacture the divested products for stable product supply and some of the products for local and international market will be manufactured at Celltrion Pharms cGMP production facilities in future.
The acquisition provides Celltrion group an opportunity to strengthen its small molecule pharmaceutical product portfolio and progress towards a market leading position as a global biopharmaceutical company.
Celltrion group also expects this transaction to help position itself as a stable supplier of high-quality, made-in-Korea original drugs and contribute to the reinforced financial strength of the national health system.
Based on its own R&D capacities and to-be acquired product patents, Celltrion plans to speed up the development of new medicines such as extended-release drugs and compound drugs, as well as biosimilar insulins to complete the portfolio of diabetic and hypertensive pipelines.
Celltrion CEO Kee Woosung said "With the successful acquisition of select primary care and OTC product assets from Takeda in Asia Pacific Celltrion has set an important opportunity to develop additional new drugs and expand its market share in the region," and "Celltrion will also do its best to secure a leading position in the Asia Pacific market and provide high quality medical products in the region."
About Celltrion, Inc
Headquartered in Incheon, Korea, Celltrion is a leading biopharmaceutical company, specializing in research, development and manufacturing of biosimilar and innovative drugs. Celltrion strives to provide more affordable biosimilar mAbs to patients who previously had limited access to advanced therapeutics. Celltrion received FDA and ECs approval for Inflectra and Remsima, respectively, which is the worlds first mAb biosimilar to receive approval from a regulatory agency in a developed country. Also Celltrion received FDA and ECs approval for Truxima and Herzuma. Its products are manufactured at state-of-the-art mammalian cell culture facilities, designed and built to comply with the US FDA cGMP and the EU GMP guidelines.
---
1 Celltrion Asia Pacific PtE. Ltd.
Celltrion, Inc.

Eunyoung Lee, +82 32 850 4384

[email protected]

Or

Tae-Gyun Kim, +82 32 850 5136

[email protected]
Arcturus Therapeutics to Present at Upcoming Investor Conference
Arcturus Therapeutics Holdings Inc. (the Company, Arcturus, Nasdaq: ARCT), a leading clinical-stage messenger RNA medicines company focused on the development of infectious disease vaccines and significant opportunities within liver and respiratory rare diseases, today announced that the Company will be presenting at Piper Sandlers 32nd Annual Virtual Healthcare Conference:
The Road Ahead for COVID-19 Vaccines: What We Know and Questions Still to be Answered into 2021
Panel Presentation Date: Tuesday, Dec 1, 2020 Time: 10:00 a.m. ET
About Arcturus Therapeutics
Founded in 2013 and based in San Diego, California, Arcturus Therapeutics Holdings Inc. (Nasdaq: ARCT) is a clinical-stage mRNA medicines and vaccines company with enabling technologies: (i) LUNAR lipid-mediated delivery, (ii) STARR"¢ mRNA Technology and (iii) mRNA drug substance along with drug product manufacturing expertise. Arcturus diverse pipeline of RNA therapeutic and vaccine candidates includes self-replicating mRNA vaccine programs for SARS-CoV-2 (COVID-19) and Influenza, and other programs to potentially treat Ornithine Transcarbamylase (OTC) Deficiency, Cystic Fibrosis, and Cardiovascular Disease along with partnered programs including Glycogen Storage Disease Type 3, Hepatitis B Virus, and non-alcoholic steatohepatitis (NASH). Arcturus versatile RNA therapeutics platforms can be applied toward multiple types of nucleic acid medicines including messenger RNA, small interfering RNA, replicon RNA, antisense RNA, microRNA, DNA, and gene editing therapeutics. Arcturus technologies are covered by its extensive patent portfolio (200 patents and patent applications, issued in the U.S., Europe, Japan, China and other countries). Arcturus commitment to the development of novel RNA therapeutics has led to collaborations with Janssen Pharmaceuticals, Inc., part of the Janssen Pharmaceutical Companies of Johnson & Johnson, Ultragenyx Pharmaceutical, Inc., Takeda Pharmaceutical Company Limited, CureVac AG, Synthetic Genomics Inc., Duke-NUS, and the Cystic Fibrosis Foundation. For more information visit www.ArcturusRx.com. In addition, please connect with us on Twitter and LinkedIn.
IR and Media Contacts

Arcturus Therapeutics

Neda Safarzadeh

(858) 900-2682

[email protected]
Kendall Investor Relations

Carlo Tanzi, Ph.D.

(617) 914-0008

[email protected]
Diamond S Shipping Inc. Comments on an Incident Involving One of Its Vessels
Diamond S Shipping Inc. (NYSE: DSSI) (Diamond S or the Company) announced the receipt of an incident report involving a kidnapping on one of its product tanker vessels, the Agisilaos, as it was approaching the port of Lome, Togo on November 29, 2020. The vessel is managed and crewed by Capital Ship Management Corp. (˜Capital) who informed Diamond S about the kidnapping of four crew members. The Company confirms that there were 22 seafarers aboard when the attack occurred. There have been no reports of injuries at this time. All appropriate authorities have been notified and Diamond S is fully supporting Capital as they respond to this situation. Diamond S will not comment further on these operational issues to avoid potentially jeopardizing the safety of the crew members being held or prolonging their stay in captivity.
About Diamond S Shipping Inc.
Diamond S Shipping Inc. (NYSE Ticker: DSSI) owns and operates 66 vessels on the water, including 15 Suezmax vessels, one Aframax and 50 medium-range (MR) product tankers. Diamond S Shipping is one of the largest energy shipping companies providing seaborne transportation of crude oil and refined petroleum products in the international shipping markets. The Company is headquartered in Greenwich, CT. More information about the Company can be found at www.diamondsshipping.com.
Investor Relations Inquiries:

Robert Brinberg

Tel: +1-212-517-0810

E-mail: [email protected]