EHang to Provide UAM Services in Hengqin New Area in Zhuhai, China
GUANGZHOU, China, Jan. 12, 2021 — EHang Holdings Limited (Nasdaq: EH) ("EHang" or the "Company"), the world's leading autonomous aerial vehicle ("AAV") technology platform company, announced strategic partnerships with Zhuhai Da Heng Qin Pan-Tourism Development Co., Ltd., Zhuhai Huafa Sports Operations Management Co., Ltd. and Flying World (Zhuhai) Technology Co., Ltd. to jointly initiate Urban Air Mobility ("UAM") operations for aerial sightseeing and other air mobility services in the Hengqin New Area, the largest island and a Free Trade Zone in southeast Zhuhai in Guangdong Province of China. By establishing AAV experience centers and a suite of supporting service systems, EHang AAVs will be integrated into the daily life of the local population.
During a signing ceremony held on January 8, a fleet of EH216 AAVs made passenger-carrying flights in Tianqin Park on Hengqin New Area. The flights were seen by local government officials, enterprise representatives, the media and local residents. A total of 36 passengers flew in the autonomous EH216, enjoying safe and comfortable aerial sightseeing trips. Through this event, EHang fully demonstrated its leading-edge technology for the centralized management of simultaneous flights of multiple AAVs in distributed operations under the command-and-control systems.
Li Weihui, Deputy Secretary of the Hengqin New Area, said, "We warmly welcome the arrival of EHang passenger-grade AAVs to Hengqin. We believe this new style of intelligent air mobility will have more and better uses and will flourish in our beautiful Hengqin New Area."
Resting on the west bank of the Pearl River estuary, the Hengqin New Area is regarded as the core of Pearl River Delta and boasts a unique geographical location adjacent to Hong Kong and Macau.   With an advantageous geographical location, pleasant natural scenery and rich tourism resources, it boasts favorable conditions and market demand for the development of short- and medium-haul urban air transportation. According to the Outline of the Development Plan for the Guangdong-Hong Kong-Macao Greater Bay Area and the Overall Development Plan of Hengqin issued by the State Council of the People's Republic of China, Hengqin will become a demonstration area for in-depth cooperation among Guangdong, Hong Kong and Macao and an international leisure and tourism destination suitable for living, working and travel, accelerating the integrated development of tourism in the Guangdong-Hong Kong-Macao Greater Bay Area.
Lu Ting, CEO of Flying World (Zhuhai) Technology Co., Ltd., commented, "We are excited to cooperate with EHang and other strategic partners. By leveraging EHang's world's leading AAV technology and strong support from local government, we see promising market development potential and are confident that we can integrate air mobility services into the leisure and tourism industry in Hengqin. We believe this effort can gradually expand across the Guangdong-Hong Kong-Macao Greater Bay Area to form synergistic operations and development."
Watch the video of EH216 AAVs conducting passenger-carrying flights in Hengqin: https://youtu.be/r8HiyGn7VF4
About EHang EHang (Nasdaq: EH) is the world's leading autonomous aerial vehicle (AAV) technology platform company. Our mission is to make safe, autonomous, and eco-friendly air mobility accessible to everyone. EHang provides customers in various industries with AAV products and commercial solutions: air mobility (including passenger transportation and logistics), smart city management, and aerial media solutions. As the forerunner of cutting-edge AAV technologies and commercial solutions in the global Urban Air Mobility (UAM) industry, EHang continues to explore the boundaries of the sky to make flying technologies benefit our life in smart cities. For more information, please visit www.ehang.com.
About Zhuhai Da Heng Qin Pan-Tourism Development Co., Ltd. Zhuhai Da Heng Qin Pan-Tourism Development Co., Ltd. is the integrator of tourism resources in Hengqin New Area. Adhering to the mission of making life better, and taking on the responsibility for development of the tourism resources in Hengqin Island and construction of the Hengqin tourism brand, works as an important facilitator to government for construction of the international leisure tourism island in China, and an integrated service provider of the pan-smart tourism industry in the world. We are doing our best to promote and deepen the regional tourism cooperation between Guangdong and Macao, cooperate with Macao in construction of the world tourism and leisure center, and build Hengqin into an international leisure tourism island at a higher level.
About Zhuhai Huafa Sports Operations Management Co., Ltd. Located in the center of Hengqin, Huafa Sports Operations Management Co., Ltd. was established in 2013 under Huafa Group. Tournament-oriented, Huafa Sports operates three tennis events including WTA Elite Trophy Zhuhai, Zhuhai Open and Australian Open Wildcard Play-off as well as venue management like advertising management, venue leasing and tennis training. With its aim to building the biggest sports operation platform in South China, Huafa Sport helps promoting the living standard of Zhuhai citizens and the development of regional sports industry.
Safe Harbor Statement This press release contains statements that may constitute "forward-looking" statements pursuant to the "safe harbor" provisions of the U.S. Private Securities Litigation Reform Act of 1995. These forward-looking statements can be identified by terminology such as "will," "expects," "anticipates," "aims," "future," "intends," "plans," "believes," "estimates," "likely to" and similar statements. Management has based these forward-looking statements on its current expectations, assumptions, estimates and projections. While they believe these expectations, assumptions, estimates and projections are reasonable, such forward-looking statements are only predictions and involve known and unknown risks and uncertainties, many of which are beyond management's control. These statements involve risks and uncertainties that may cause EHang's actual results, performance or achievements to differ materially from any future results, performance or achievements expressed or implied by these forward-looking statements.
Media Contact: [email protected]
Investor Contact: [email protected]   In the U.S.: [email protected] In China: [email protected]
Photos accompanying this announcement are available at
https://www.globenewswire.com/NewsRoom/AttachmentNg/1f210fb0-d7cf-47b2-a007-cdb6e7ac76ca
https://www.globenewswire.com/NewsRoom/AttachmentNg/b52e47cc-e05c-4bff-afeb-f8a6c6198e95
https://www.globenewswire.com/NewsRoom/AttachmentNg/0e28d91b-54ec-475d-a361-be30ee26e8e5


EHang to Provide UAM Services in Hengqin New Area in Zhuhai, China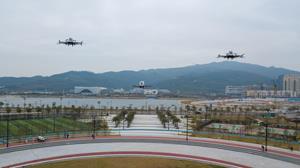 Multiple EH216 AAVs conducting simultaneous passenger-carrying flights in Hengqin
EHang to Provide UAM Services in Hengqin New Area in Zhuhai, China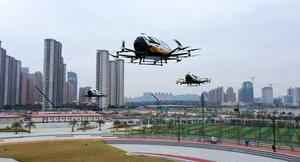 Multiple EH216 AAVs conducting simultaneous passenger-carrying flights in Hengqin
EHang to Provide UAM Services in Hengqin New Area in Zhuhai, China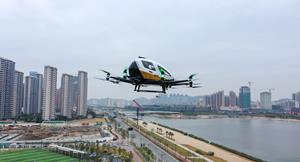 Multiple EH216 AAVs conducting simultaneous passenger-carrying flights in Hengqin
New Fujitsu LIFEBOOK takes New Workstyle Productivity to the Next Level
News facts:
New line-up to enable the new normal includes high-performance
business notebooks with 11th Gen Intel® CoreTM
vProTM Processor

Super-lightweight flagship LIFEBOOK U9 models weigh

starting at 756g
Ultra-mobile premium LIFEBOOK U7 is up to 15% smaller
and thinner than previous generation.
Hong Kong
SAR – Media OutReach – 9 February, 2021 – Fujitsu today introduces upgraded LIFEBOOK commercial
notebook designed in line with today's working styles. The new FUJITSU Notebook
LIFEBOOK U9, U7 and E5 series feature up to the 11th generation Intel®
Core™ i7 vPro® processors and a host of all-round enhancements.
Super-lightweight design redefines no-compromise working
The new-generation
Fujitsu LIFEBOOK U9311 is built to focus on the new normality for busy executives.
With up to the 11th generation Intel® Core™ i7 vPro®
processor and even smaller, more powerful, and lighter than before — weighing
just from 756 grams — the new flagship model of LIFEBOOK range redefines
no-compromise working. Also introducing the featherlight LIFEBOOK U9311X1
convertible, with the generous 13.3″ FHD touchscreen, AES pen with WACOM
technology, rear camera and full set of interfaces, it is your best companion in
remote workplace.
Real-world
improvements match today's working styles
Available in a
range of popular sizes2, the LIFEBOOK U7 introduces a near-frameless
display3 on 14″ and 15.6″ models. They are thinner and up to 15%
smaller than previous generation. This slimline look, combined with a warm silver
color, gives the new models a strong visual presence. The LIFEBOOKs are good
lookers in a near-frameless screen design and Intel® IRIS® Xe graphics that gives stunning graphics
with an immersive experience for graphics-intensive applications.
Built for
videoconferencing: A
built-in HD camera can be closed with an ultra-tiny privacy camera shutter4,
and an electronic ePrivacy filter narrows the readable angle of the screen5.
It gives the best-ever audio for LIFEBOOK from the dual array microphone
featured with noise cancellation technology.
Secure by
design: New LIFEBOOK models
integrate Windows Hello, while Fujitsu's contactless PalmSecureTM
biometric authentication provides the highest security and hygience standard. The
series feature Intel® Hardware Shield, available exclusively on the
Intel® vPro® platform, that provides comprehensive
hardware-based security for business, including below-the-OS-security protection,
application and data security protection, and advanced threat detection.
The best connectivity: The latest LIFEBOOK series offers
best-in-class connectivity with full sized LAN, HDMI,
USB-A and ThunderboltTM 4 ports for charging, speedy file
transfer and connect to display in one cable. The new 65Wh four-cell battery6 brings
superb battery performance which enables a full working day of cable-free
runtime.
Powerful business platform — LIFEBOOK E5
Fujitsu also
introduces the new generation LIFEBOOK E5 series, featuring robust chassis and
all-round security functions including Fujitsu PalmSecureTM Sensor7,
built-in smartcard reader7, discrete TPM7 and privacy
camera shutter. Legacy features such as service door for convenient
self-upgrade and full size interfaces will be continuously supported in this
new generation.
Pricing and availability
Availability of
the new LIFEBOOK varies across countries and region. Prices vary by country and
configuration.
Notes
1 LIFEBOOK U9311X will be available in
specific regions and countries only.
2 Three new advanced line models are
available: LIFEBOOK U7311(13.3″) , U7411(14″); and U7511 (15.6″).
3 Available on LIFEBOOK U7411 and U7511.
4Available on LIFEBOOK U9311, U7 and E5
series.
5 Available on LIFEBOOK U7311 and U7411 (optional).
6 Available on LIFEBOOK U7411 and U7511.
7 Optional features.
Facebook:

www.facebook.com/fujitsu.business
About Fujitsu
Fujitsu is the leading Japanese information and communication technology (ICT) company offering a full range of technology products, solutions and services. Approximately 130,000 Fujitsu people support customers in more than 100 countries. We use our experience and the power of ICT to shape the future of society with our customers. Fujitsu Limited (TSE:6702) reported consolidated revenues of 3.9 trillion yen (US$35 billion) for the fiscal year ended March 31, 2020. For more information, please see www.fujitsu.com.
All other company or product names mentioned herein are trademarks or registered trademarks of their respective owners. Information provided in this press release is accurate at time of publication and is subject to change without advance notice.
GEODIS Charters Tonnage to Alleviate Container Capacity Shortage on Asia-Europe Trade
LEVALLOIS, PERRET – Media
OutReach – 10
February 2021 – GEODIS, a leading global supply chain operator, provides
its customers with guaranteed space in an ultra-tight sea freight market from
China to Europe.
GEODIS provides its customers with guaranteed space in an ultra-tight sea freight market from China to Europe
The first 1,000TEU[1] capacity vessel, operated
exclusively by GEODIS, is scheduled to arrive in Hamburg on 28 February. This ship
is carrying a total of 435 forty-foot containers for customers who have found
it increasingly difficult to secure space with regular carriers at a viable rate.
The next vessel sailing is scheduled to leave Shanghai around 10 February.
Depending on demand, GEODIS will plan additional sailings over the coming
weeks.
Mathias
Hansen is Senior Vice President Global Ocean Freight for GEODIS, "We understand the current market
challenges resulting from unprecedented customer demand and the limitations of
ocean carrier capacity and sailings from China and other parts of Asia," he
observed.  "We are working hard to find
solutions for our customers. Hence, this
exclusive vessel charter to supplement fixed long-term agreements we have with
core carriers.  We strive to deliver
certainty to our customers amid the unstable market."
"These market forces have created variable
and unforeseen spikes in demand for Asian goods," comments Onno Boots, GEODIS' Regional President and
CEO for Asia Pacific. "Our primary aim is to offer multi-modal
solutions to our existing customers to enable them to ship on time and in a
reasonably economic manner. As an adaptable and innovative service provider,
GEODIS is permanently looking for alternatives including rail, ocean and air
products that fulfil this aim for shippers on the increasingly volatile Far
East West Bound (FEWB) trade lane."
Ivan Siew, Managing Director, China, adds, "Ocean freight services out
of China have been in high demand, in the ride up to Chinese New Year and
beyond. We are focused on ensuring that our customers continue to depend on
GEODIS to deliver innovative solutions in accordance with evolving market
demands. As the biggest supplier of goods to the world, using all freight
modes, China is particularly affected by the changes in availability of
capacity and shipping containers. These ocean charters provide much relief to
the companies we serve and we are proud to be stepping up our response as the
situation changes."
---
[1] Twenty-foot Equivalent Unit.
GEODIS – www.geodis.com
GEODIS is a top-rated, global supply chain operator recognized for its commitment to helping clients overcome their logistical constraints. GEODIS' growth-focused offerings (Supply Chain Optimization, Freight Forwarding, Contract Logistics, Distribution & Express, and Road Transport) coupled with the company's truly global reach thanks to a direct presence in 67 countries, and a global network spanning 120 countries, translates in top business rankings, #1 in France, #6 in Europe and #7 worldwide. In 2019, GEODIS accounted for over 41,000 employees globally and generated €8.2 billion in sales.
KAMPOS Expands into South Korea & Strengthens Its Sustainable Mission Internationally
PORTO CERVO, SARDINIA – Media OutReach – 10 February 2021 – KAMPOS, the ultimate Italian brand promoting luxury with integrity, is expanding overseas by entering the South Korean market.
The brand has recently signed a partnership with a local distributor, Sanghyun Yu, based in the capital, Seoul, and has already established KAMPOS South Korea Ltd. As part of the strategy, the brand has just launched its South Korean website (https://kampos.kr/).
When we ask the reason of this expansion to Alessandro Vergano, Founder & CEO of KAMPOS, he declares: "This international move is more than a business decision; it is a strategic and meaningful move to strengthen our sustainable mission. We are determined to transform the way of consumption by challenging the luxury industry's norms, inspiring change, and reducing marine waste." He adds: "Sharing our message at an international has become obvious as we understand the need to reach further international customer profiles outside Europe. We believe South Korea is full of opportunities and we are thrilled to collaborate with Sanghyun Yu".
Sanghyun Yu is a well-recognized local distributor in South Korea with strong expertise in the market and luxury goods. "I am extremely excited to be part of the KAMPOS journey. I believe in sustainability as the next big trend in South Korea. The younger generation wants to shop and hear about sustainable luxury brands. Today, there is a big market gap as we don't give them access to those international changemakers. I'm determined to turn this gap into an opportunity by supporting KAMPOS".
Discover more about the brand and the product lines on KAMPOS's website (https://kampos.kr/).
KAMPOS
Costa Smeralda
by the Sea to the Sea with Integrity
KAMPOS is an Italian luxury brand that believes in creating a world with integrity now and for future generations. KAMPOS supports a socially responsible line of fashion products and accessories. KAMPOS' unique selling proposition is predicated on raising awareness of over-fishing and marine pollution by offering consumers clothing that is made of recycled plastic bottles and fishing nets or sustainable and organic fabrics.
www.instagram.com/kampos/
www.facebook.com/kampos/