Our website publishes news, press releases, opinion and advertorials on various financial organizations, products and services which are commissioned from various Companies, Organizations, PR agencies, Bloggers etc. These commissioned articles are commercial in nature. This is not to be considered as financial advice and should be considered only for information purposes. It does not reflect the views or opinion of our website and is not to be considered an endorsement or a recommendation. We cannot guarantee the accuracy or applicability of any information provided with respect to your individual or personal circumstances. Please seek Professional advice from a qualified professional before making any financial decisions. We link to various third-party websites, affiliate sales networks, and to our advertising partners websites. When you view or click on certain links available on our articles, our partners may compensate us for displaying the content to you or make a purchase or fill a form. This will not incur any additional charges to you. To make things simpler for you to identity or distinguish advertised or sponsored articles or links, you may consider all articles or links hosted on our site as a commercial article placement. We will not be responsible for any loss you may suffer as a result of any omission or inaccuracy on the website.
AMERICAN RENAL SHAREHOLDER ALERT BY FORMER LOUISIANA ATTORNEY GENERAL: KAHN SWICK & FOTI, LLC REMINDS INVESTORS WITH LOSSES IN EXCESS OF $100,000 of Lead Plaintiff Deadline in Class Action Lawsuit Against American Renal Associates Holdings, Inc. – ARA
NEW ORLEANS, March 29, 2019 — Kahn Swick & Foti, LLC ("KSF") and KSF partner, former Attorney General of Louisiana, Charles C. Foti, Jr., remind investors that they have until May 27, 2019 to file lead plaintiff applications in a securities class action lawsuit against American Renal Associates Holdings, Inc. (NYSE: ARA), if they purchased the Company's securities between August 10, 2016 and March 27, 2019, inclusive (the "Class Period"). This action is pending in the United States District Court for the District of New Jersey.
What You May Do
If you purchased securities of American Renal and would like to discuss your legal rights and how this case might affect you and your right to recover for your economic loss, you may, without obligation or cost to you, contact KSF Managing Partner Lewis Kahn toll-free at 1-877-515-1850 or via email (lewis.kahn@ksfcounsel.com), or visit https://www.ksfcounsel.com/cases/nyse-ara/ to learn more. If you wish to serve as a lead plaintiff in this class action, you must petition the Court by May 27, 2019.
About the Lawsuit
American Renal and certain of its executives are charged with failing to disclose material information during the Class Period, violating federal securities laws.
On March 27, 2019, the Company disclosed a range of negative information including the resignation of its CFO and that its financial results for the fiscal years ended 2014 through 2017 would be restated and could no longer be relied upon due to the Company's ongoing investigation into its revenue recognition methodology and related accounting matters.
On this news, the price of American Renal's shares plummeted.
The case is Vandevar v. American Renal Associates Holdings Inc., 2:19-cv-09074.
About Kahn Swick & Foti, LLC
KSF, whose partners include former Louisiana Attorney General Charles C. Foti, Jr., is a law firm focused on securities, antitrust and consumer class actions, along with merger & acquisition and breach of fiduciary litigation against publicly traded companies on behalf of shareholders. The firm has offices in New York, California and Louisiana.
To learn more about KSF, you may visit www.ksfcounsel.com.
Contact:
Kahn Swick & Foti, LLC Lewis Kahn, Managing Partner lewis.kahn@ksfcounsel.com 1-877-515-1850 1100 Poydras St., Suite 3200 New Orleans, LA 70163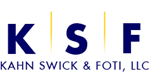 Newsletters with Secrets & Analysis. Subscribe Now